Leadership Baldwin County was established in 1989 by the University of South Alabama Baldwin County and Baldwin County United. Both the University of South Alabama Baldwin County and Baldwin County United continue to sponsor the program and members from both organizations are represented on an administrative steering committee. The joint committee guides the Leadership Baldwin County program structure, budget, fees and candidate selection.
 The University of South Alabama Baldwin County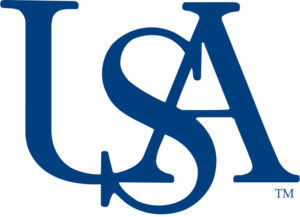 The Baldwin County Campus of the University of South Alabama was established in 1984. The Baldwin County Campus is located in downtown Fairhope, Alabama and provides a strong academic resource for people in Baldwin County. USABC offers upper-level (junior and senior) undergraduate courses, graduate courses, and non-credit programs. USABC is accredited as a branch campus by the Southern Association of Colleges and Schools. This campus has approval from the accrediting agency and the Alabama Commission on Higher Education to offer courses leading to the following bachelor's degrees: Adult Interdisciplinary Studies, Business Administration, Communication – Public Relations Track, Criminal Justice, Elementary Education and Nursing – Traditional and Accelerated Track.  Minors in Communication and Psychology are also offered.  In addition, students can earn a master's degree in School Counseling and Nursing – Accelerated Track.  Graduate level courses are offered leading to a degree in Educational Administration and Special Education.  A master's degree in Elementary Education can be earned online.  The Baldwin County Campus supports the University's mission of public service by working cooperatively with community organizations. Please visit the University of South Alabama Baldwin County Campus online for more information.
Baldwin County United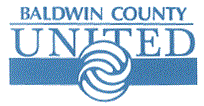 Founded in 1984, as a response to the unprecedented growth in Baldwin County and the problems resulting from that growth. The purpose of Baldwin County United is to promote, support and encourage understanding between Baldwin County's diverse communities through cooperative actions designed to improve the economic well-being and quality of life for citizens living within the community of Baldwin County. Baldwin County United is a progressive and financially stable organization with a balanced membership that represents the entire county. It is a highly effective institution that has a reputation for the fair and balanced examination of issues. Dedicated to consensus building, BCU works to promote understanding and relationships. The organization acts as a bridge builder between neighbors within Baldwin County and between Baldwin County residents and residents of other counties. For more information about Baldwin County United, please call (251) 929-7927.